Your Connection to Excellence in CTE.
Scholarship Deadlines ARE HERE!
In an effort to make sure all our new Members who's registrations might be a little delayed this year have a chance to apply, we've extended the remainder of our open scholarship application deadlines to the end of the month!

Log in and apply today! If you have any questions, please email our Scholarship Program Director, or call us at (800) 801-7090.
Celebrating the Resilient Class of 2020
You're invited to join us for an online celebration for the Class of 2020!
This exciting virtual event will premiere on Facebook on Tuesday, June 16th at 7 p.m. EST. Hosted by our Executive Director, Peyton Holland, this special ceremony will feature messages of encouragement and motivation from special guests from across the nation.
This is an interactive event you won't want to miss, so make sure you have your NTHS graduation regalia ready to show off, and make plans to join us!
Interested in volunteering as a Virtual Valedictorian, and assisting us on camera during our celebration? Email us and let us know today!
Scholarship Opportunities for NTHS Alumni
If you've already graduated, but you're planning on continuing your education, you can upgrade your membership to Premium Alumni and apply for these scholarships today!
Advisor of the Month: Alyssa Morganti
Each month, we like to recognize one of our outstanding Advisors who's been nominated by their peers, students, family, or NTHS colleagues. This month, Alyssa has some GREAT advice for all our Members who've had their education disrupted by the coronavirus pandemic.
Our monthly eNews is sponsored by our corporate partners,
and a portion of all proceeds help support our scholarship programs.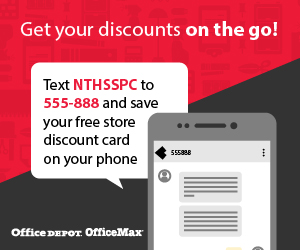 Receive up to 75% off preferred products when you use your exclusive NTHS discount card. Office Depot and Office Max carry all your office and classroom cleaning supplies, so get yours today!
Copyright © 2020, National Technical Honor Society. All rights reserved.

You are receiving this email because of your expressed interest in NTHS.
If you do not wish to receive further communication, please click unsubscribe.