Your Connection to Excellence in CTE.
Plan Your NTHS Virtual Induction Today!
Your students worked hard, and applied themselves diligently to earn their NTHS membership this year. Sure, schools are temporarily closed because of the COVID-19 pandemic, but you can still give your new members the celebration and recognition they deserve! 
Last month we rolled out our Virtual Induction Tool Kit, full of ideas and resources to help you plan your very own NTHS Virtual Induction.
We're positively thrilled to see our chapters across the country beginning to use it! Take a look at the online induction ceremony Carroll High and Senior High School in Southlake, TX just posted just last week!
Check out our Virtual Induction Tool Kit today, and start planning the celebration you know your students deserve! And hey, don't forget to invite us!

•   If it's a prerecorded video, make sure to tag us, and use #virtualNTHSinduction on whichever social channels you choose to use.

•   If it's a live streaming event, email us beforehand to make sure we know about it, and we can participate too!
Scholarship Deadlines Extended!
NTHS offers over 280 annual scholarships totaling nearly $300,000! Some of the scholarship application deadlines have already passed, but we've been able to extend a few of them in order to give you more time to get your students registered, and to give them more time to apply while they're at home!

Encourage your members to use their extra time right now to log in and apply today! If you have any questions, please email our Scholarship Program Director, or call us at (800) 801-7090.
Advisor Tips for Overcoming Disruption
This is an unprecedented time for our Advisors (and for everyone!), and NTHS remains committed to helping you recognize your outstanding CTE students.
Need assistance with the initial upload of your students? Click here for info!
We can extend student application deadline dates to give your pending members more time to complete their online registrations. Just contact us and we can help!
With most schools being closed, NTHS can ship orders to your home address if needed. Just choose the "ship to a different address" option at check out, and type in your residential address. Or, type the information in the "Order Notes" section at checkout. We are here for you!
Advisor of the Month: Dr. LaJoyce Weatherspoon
Most schools might be closed right now, but we're still celebrating the life-changing work our Advisors are doing across the country! Each month, we recognize one of our outstanding Advisors who has been nominated by their peers, students, family, or NTHS colleagues.This month, we'd like to introduce you to our friend, Dr. LaJoyce Weatherspoon, who has some simple words of wisdom she's passing along to her students.
If you would like to nominate someone to be featured as our next Advisor of the Month, email us and let us know!
Our monthly eNews is sponsored by our corporate partners,
and a portion of all proceeds help support our scholarship programs.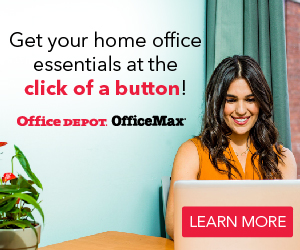 Receive up to 75% off preferred products when you use your exclusive NTHS discount card. Office Depot and Office Max carry all your office and classroom cleaning supplies, so get yours today!
Copyright © 2020, National Technical Honor Society. All rights reserved.

You are receiving this email because of your expressed interest in NTHS.
If you do not wish to receive further communication, please click unsubscribe.