Your Connection to Excellence in CTE.
Honoring Outstanding NTHS Chapters Across the Country
The Silver Star of Excellence Award celebrates outstanding NTHS chapters for their community involvement outside the classroom, demonstrating our 7 core values - skill, scholarship, service, honesty, responsibility, citizenship, and leadership. Check out some of our recent award winners!
Have your chapter be recognized this year!
Application deadline is May 15th.
Advisor of the Month: Andrea Verser
Each month, we recognize one of our outstanding Advisors who has been nominated by their peers, students, family, or NTHS colleagues.
This month, we'd like to introduce you to our friend, Andrea Verser.
Andrea is enthusiastic, active, and just pretty much a pro at getting her members involved in their school and their community! Last year, her chapter was even a recipient of the Silver Star of Excellence Award!
Need some ideas on how to further engage your students? Check out Andrea's story!
If you would like to nominate someone to be featured as our next Advisor of the Month, email us and let us know!
NTHS offers over 280 scholarships totaling nearly $300,000. Some scholarship application deadlines have passed, but check out the ones below that are still open!

Encourage your members to log in and apply today, before their time runs out! If you have any questions, please email our NTHS Scholarship Program Director, or call us at (800) 801-7090.
Advisor Tips for a Thriving Chapter
Fully register your new NTHS members well in advance of graduation so they have plenty of time to apply for our exclusive Jon H. Poteat Scholarship! The scholarship application deadline is May 1st.
Already have a thriving chapter? Make sure to apply for our Silver Star of Excellence Award! The application deadline is May 15th.
Our monthly eNews is sponsored by our corporate partners,
and a portion of all proceeds help support our scholarship programs.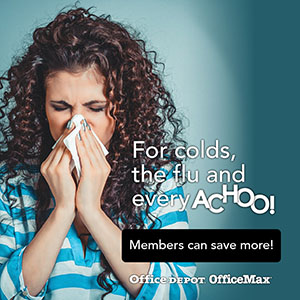 Receive up to 75% off preferred products when you use your exclusive NTHS discount card. Office Depot and Office Max carry all your office and classroom cleaning supplies, so get yours today!
Copyright © 2020, National Technical Honor Society. All rights reserved.

You are receiving this email because of your expressed interest in NTHS.
If you do not wish to receive further communication, please click unsubscribe.